企業團體咖啡體驗活動 TEAM BUILDING with COFFEE
Unleash your team's creativity with a jolt of caffeine! Join our Coffee Workshop for a team building activity. Bond over beans and brews, and create coffee memories together.
MYOC COFFEE STUDIO位於中上環,為公司、企業及團體舉辦多元化咖啡體驗活動,促進團隊建立,包括:手沖咖啡工作坊、咖啡拉花工作坊等等。另外並設有上門到場教授,歡迎向我們查詢詳情。
#MYOCCOFFEE #TEAMBUILDING
Why organise coffee workshops for team building?
Team Bonding
Coffee workshops in a team setting foster interaction and collaboration, strengthening team bonds in a relaxed setting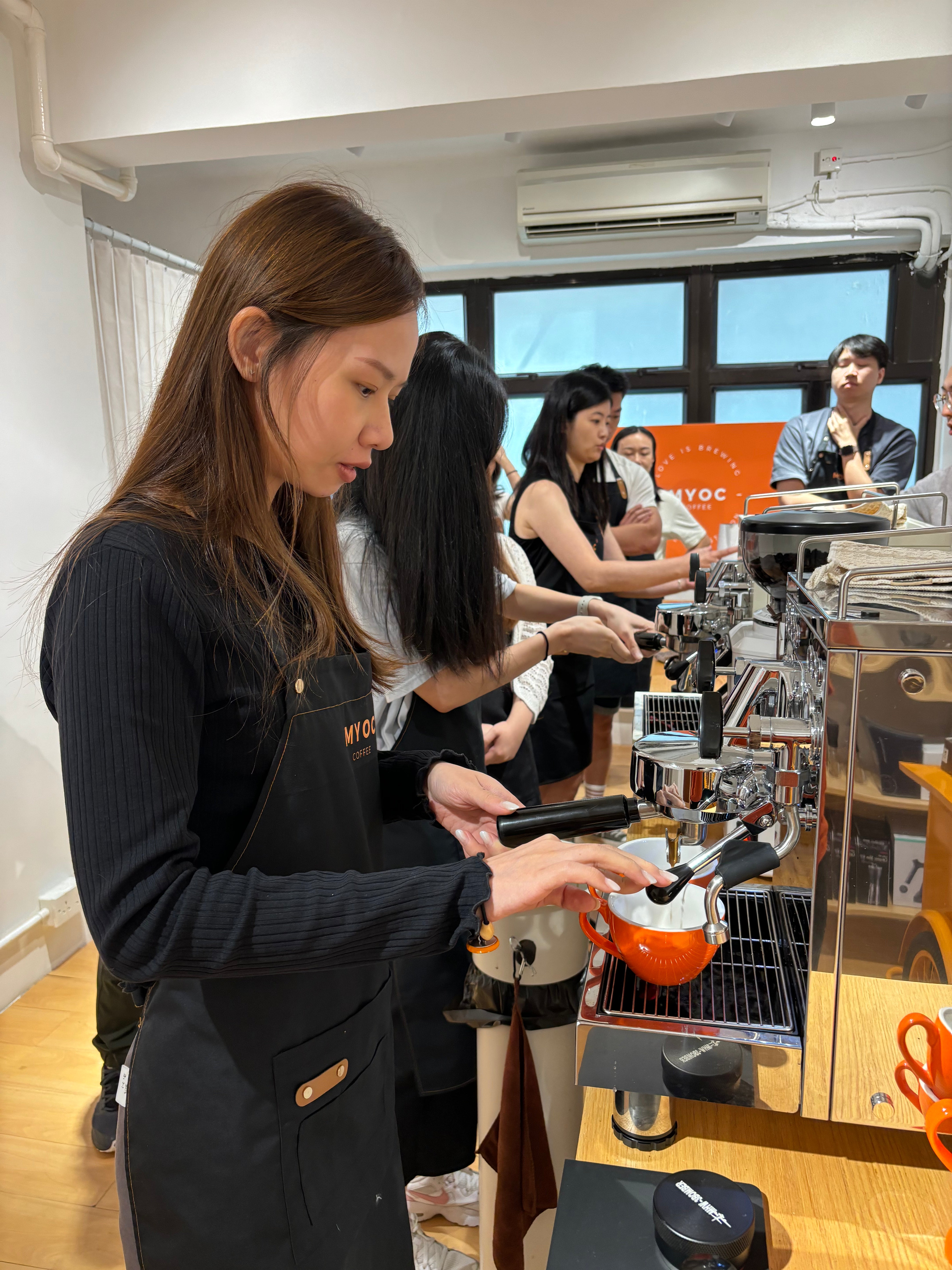 Creativity Boost
Brewing coffee or crafting latte art stimulates innovative thinking and encourages out-of-the-box problem solving
MYOC COFFEE WORKSHOP
What we OFFER?
1. Coffee Latte Art Workshop
Expert Instruction: A professional barista will guide your group through the process of making the perfect cup of coffee, from choosing the right beans to extracting the perfect espresso shot.
Latte Art Lessons: Participants will learn the art of milk frothing and pouring to create their own beautiful latte art designs.
Hands-On Experience: Everyone will have the chance to practice on professional-grade espresso machines and brewing equipment.
2. Hand-drip Coffee Workshop
Professional Guidance: Our expert baristas will teach your team the art of hand-drip coffee making, including the selection of coffee beans, grinding, and water temperature control.
Hands-On Brewing: Participants will get the chance to brew their own hand-drip coffee using specialized equipment, providing a tactile and immersive coffee-making experience.
Coffee Tasting: The group will engage in a coffee tasting session, learning to discern different flavors, aromas, and characteristics of various coffee types.
MYOC 團體咖啡課程
多元化咖啡體驗活動
1. 咖啡拉花團體工作坊
專業導師指導:我們的專業咖啡師導師會指導你的團隊製作完美的咖啡,從選擇正確的咖啡豆製作完美的意式咖啡。
拉花課程:參與者將掌握拉花工具和材料,學習打奶技巧,以創作美觀、藝術性的拉花圖案。
親手體驗:每個參與者都將有機會在專業級的意式咖啡機和沖泡設備上進行實踐。
2. 手沖咖啡團體工作坊
專業導師指導:我們的專業咖啡師導師將教導你的團隊如何掌握手沖咖啡的沖調藝術,包括選擇咖啡豆、研磨,以及控制水溫等等。
親手沖煮:參加者將有機會使用專業設備,親自沖煮自己的手沖咖啡,提供一種具有觸覺的、沉浸式的咖啡製作體驗。
咖啡品嚐:參加者將進行咖啡品嚐會,學習辨識各種咖啡的不同口味、香氣和特性。
MYOC COFFEE STATIONS
Events that we support
Team Building Activities 團隊建立活動:
Enhance collaboration, foster creativity, and build stronger relationships in a relaxed and engaging setting.
Group Celebrations 慶祝活動、聖誕新年派對活動:
Christmas Party, Christmas and New Year Celebrations, Birthdays, anniversaries, or any other special occasions can be made more memorable with a shared coffee-making experience.
Educational Trips 學校教學活動:
Schools, universities, or any educational institutions looking for a fun and interactive way to learn about coffee and its production.
Networking Events 商務聯誼活動:
Provide a relaxed setting for professionals to mingle, network, and create meaningful connections over a shared love for coffee.
HOW TO CONTACT US? 想直接聯繫我們
CONTACT us for your event
Please leave the basic information about your event (Event Date/Type/Location and Number of People).